In this day and age, encouraging team building and strong connections in your business is more important than ever. Many companies have booked their corporate retreats at our Nashville meeting space—the conference rooms, dining rooms, break-out rooms, outdoor covered porches, and break areas impress time and again. The Belle Air Mansion—a premier Nashville Bed and Breakfast and event venue—is the best place to book your next overnight group meeting, destination outing, or team-building getaway.
Our 13,200-square-foot property offers 15 bedrooms and 19 bathrooms; we can accommodate sleeping arrangements for up to 38 people. We're also centrally located to so many of the best things to do in Nashville, TN!
Our historic Mansion is an impressive backdrop as a Nashville meeting space—the amount of time and care spent restoring the 1832 Greek Revival Mansion is apparent at every turn. You'll encounter 200-year-old original hardwood floors, 27 opulent chandeliers adorning the 12 and 13-foot ceilings. 11 fireplaces, and beautiful antiques throughout the halls, guest rooms, and meeting rooms. Your employees will appreciate this unique location, and we've witnessed a strong synergy firsthand when companies host their events at our Nashville meeting space.
Read on to find out more about our Nashville Bed and Breakfast, and make your reservation in advance today!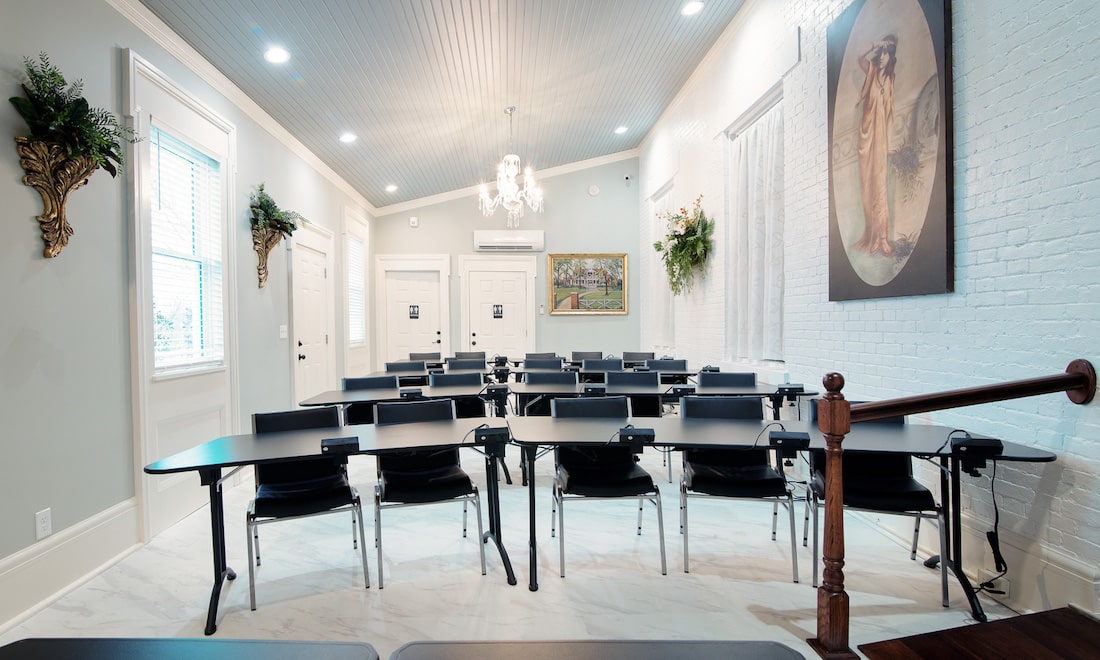 The Best Nashville Meeting Space for 2023
As one of the best Nashville meeting spaces, we're constantly evolving to stay up to date on the needed technologies while never compromising our historic atmosphere. Here are the details on holding your next event at our Nashville Bed and Breakfast:
Business Training Center: Featuring 75 inches of 4K display for presentations and can seat up to 20 people, each with its own power station and USB charging ports, the business training center can be digitally connected to our large conference room for a total meeting capacity of 34.
Meeting and Conference Rooms: This room can seat up to 26 and is equipped with a 65-inch 4K display. There are also multiple breakout rooms for small team meetings. Of course, we offer reliable high-speed internet services.
Outdoor Options: Our landscaped 6-acre property is one element that sets us apart from other Nashville meeting spaces in the area. We have a large covered pavilion, a 2500 square foot seating area as part of a large rose garden, and an event stage. Our kitchen porch can seat up to 20 people as well.
Beautifully-Appointed Overnight Accommodations: With 15 elegantly-appointed guest suites, your employees will rest up for meetings in the lap of luxury. En-suite bathrooms offer high-end fixtures and appointments for relaxation.
Concierge Services: The welcoming staff members at our Nashville Bed and Breakfast can offer these services, but if you'd like to reserve concierge from outside the Mansion, we have great recommendations for professionals familiar with our Nashville meeting space and retreat center.
Breakfast and Catering Services: On a typical morning at the Belle Air Mansion, our guests are treated to a delightful homemade Southern breakfast on fine china. Catering service can be arranged for groups of 15 or more, and we also have a handful of reliable and talented outside catering companies we recommend.
Personal Chefs and Bartending Services: The same goes for private chefs and bartenders, we welcome you to book your favorite service, but we have a few that come highly recommended.
Ample Parking Spaces: One last thing to worry about! About 55 parking spaces—45 in the parking lot, eight beside the Mansion, and two behind the Retreat House.
The Belle Air Mansion functions as a Bed and Breakfast—the ideal way to fully enjoy our Nashville meeting space is to rent the entire space for a private and secluded corporate retreat.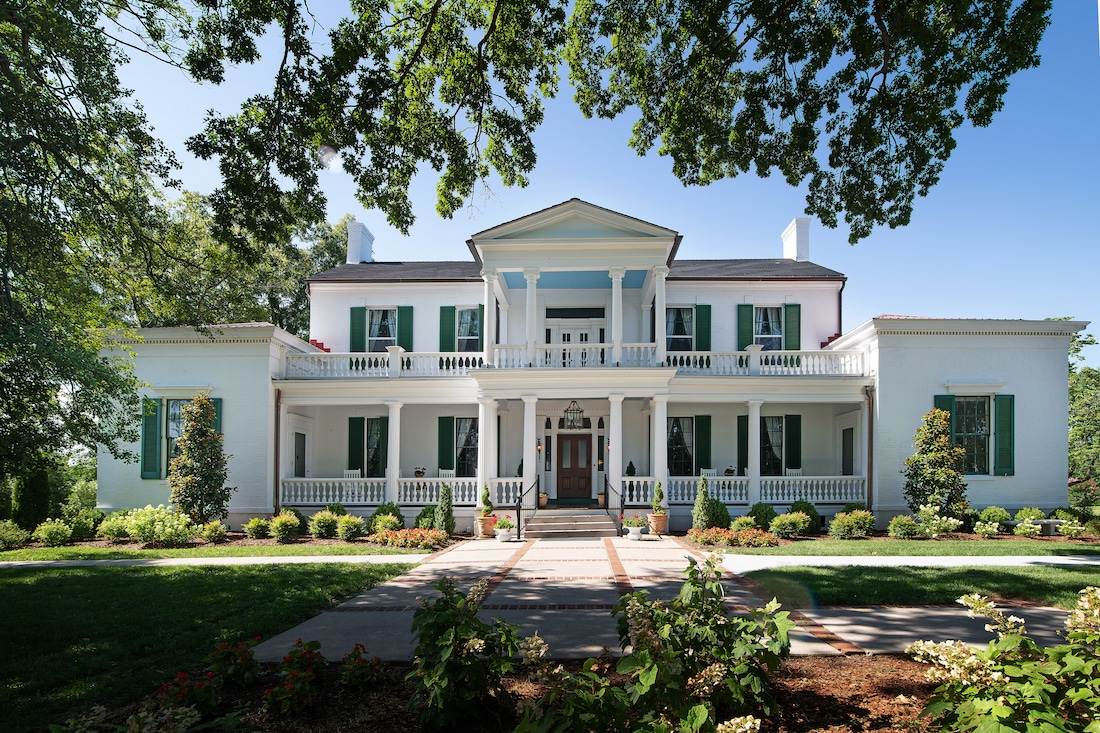 The Best Things to do in Nashville for Team Building
One location near Downtown Nashville and the Nashville Airport is one of the biggest draws for corporate retreats and team-building getaways. Nashville is known for its lively music scene, innovative dining opportunities, Tennessee whiskey tours, and much more. Here are the best things to do in Nashville for a business outing:
As you look forward to your 2023 business calendar, it's best to start planning and booking our Nashville meeting space in advance. Contact us for more details, and get your future corporate retreat on the books today!