As we settle into fall and get back into the flow of work after what was – for many – a fun summer, businesses around the country are beginning to plan fall and winter retreats. If you're looking for the perfect place to host your Nashville corporate retreats, move the Belle Air Mansion to the top of your list!
The Belle Air Mansion operates as a 15-room Bed and Breakfast throughout the year, but we also serve as an event venue for destination weddings, family reunions, small gatherings, business meetings, and Nashville corporate retreats. Our corporate retreat center is housed inside this ornate and impeccably restored mansion, which retains much of its original southern character and charm.
The Inn features 13-foot high ceilings, beautiful antiques, and antebellum architecture – talk about a stunning backdrop for your employees to enjoy while learning and team building during your Nashville corporate retreats! If you'd like to learn more about our facility and how we can help you, get in touch at 615-788-3421.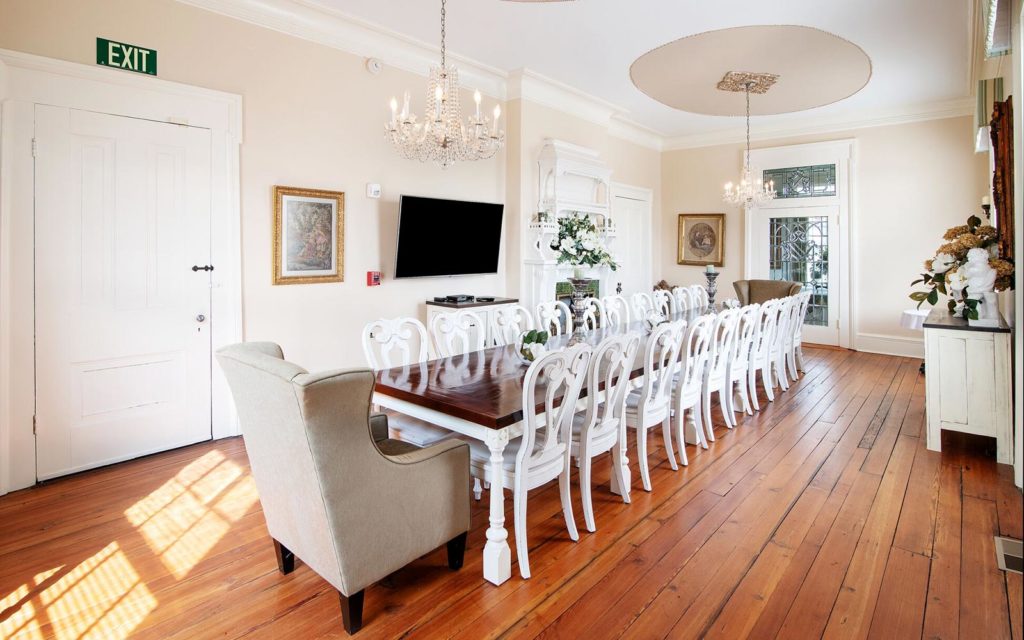 Nashville Corporate Retreats & Luxury Accommodations
Depending on what you need during your Nashville corporate retreats, Belle Air Mansion can accommodate you.  We offer a state-of-the-art Business Training center that features 75 inches of 4K display for presentations and has seating for up to 20 people, each with its own power station and USB charging ports.
The business training center is in a completely private area inside the mansion and can also be digitally connected to our large conference room for a total meeting capacity of 34. If your Nashville corporate retreats don't need the large business center space, we also offer a large private conference room. This room can seat up to 26 and is equipped with a 65-inch 4K display. There are also multiple breakout rooms for small team meetings. We also offer fast and reliable high-speed internet services, a critical component of successful Nashville corporate retreats.
We'd also be thrilled to help connect you with local organizations that facilitate team-building activities throughout your Nashville corporate retreats.  For example, take your team on a scavenger hunt through downtown Nashville, find a charity challenge to participate in, or head outside for other fun activities. There are so many great things to choose from!
When work is done for the day, downtown Nashville is only minutes away from our Nashville event venue, which means within minutes you can be enjoying Nashville's top-rated music scene, world-class restaurants and bars, and so much more. There are so many incredible things to do in Nashville, and this is your perfect opportunity to enjoy it all. We're also happy to arrange gourmet catered dining experiences and entertainment onsite or plan a custom outdoor event for your Nashville corporate retreats.
At the end of the day, retreat to your private guest room – we offer 15 of them in total – and enjoy an indulgent night of sleep surrounded by the luxury and elegance of a bygone era.  Each guest features a private bath and is surrounded by 13,200 sq ft of comfortable living space on a 6-acre estate.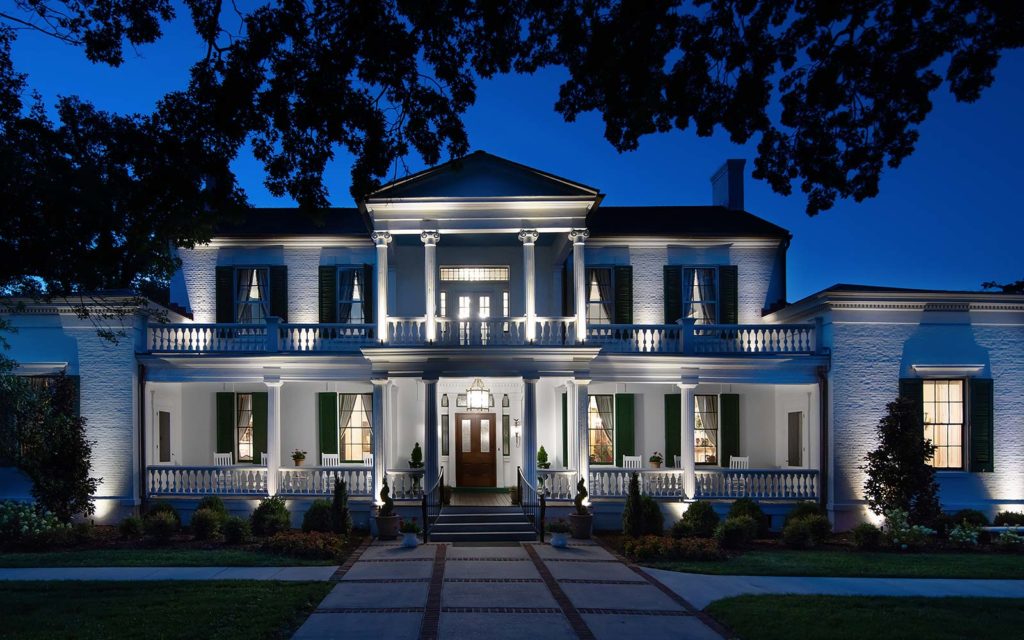 Well-Located Event Venue in Nashville
There are plenty of reasons to make our event venue your go-to when it comes to Nashville Corporate events. From our unique meeting spaces and fifteen exquisite guest rooms to our exceptional hospitality and attention to detail, you'll leave with plenty of high-quality work completed and plenty of laughs and memories made along the way.
Aside from our high-performing meeting spaces, there's another reason to make us your go-to for Nashville corporate retreats, and that's our location. We're conveniently located just four miles from the Nashville International Airpot (BNA), only 5.2 miles from Broadway Street in downtown Nashville, and 3 miles from the Opryland hotel. To put it mildly, our convenient location puts you in the heart of Nashville, so you are just minutes from anywhere you need to be in town.
Getting here is easy, but we also make checking in and out an easy and seamless process as well.  We offer an automated check-in and check-out service that will allow flexible very late-night check-ins and very early checkouts without having to interact with staff.  There's no need to make sure your flight gets you here at a certain time!
We'll even email and text directions to your room, the code to your room, the code to the mansion, the Wi-Fi name & password, breakfast times, and other useful information. Whatever we can do to make your experience with us as easy as possible! Are you ready to plan? Refer to our website for more information, and call us to arrange your Nashville corporate retreats today!