If you're recently engaged (or know someone who is) and are embarking on the exciting journey of planning your dream wedding, then let us introduce you to one of the best Nashville Wedding Venues.  The Belle Air Mansion is an unbelievably beautiful and impeccably restored 1800's Greek Revival Antebellum mansion – one of the last remaining in Nashville. Nestled on 6 beautiful acres just outside of downtown Nashville, this stunning mansion is truly a remarkable setting for your special day.
Inside the mansion, you'll find ornate fireplaces, glimmering chandeliers, 13-foot high ceilings, period furnishings, remnants of the original home, and beautiful architecture throughout. Outside, you'll be awed by our gorgeous grounds, complete with majestic 200 year-old-trees and a restored 200-year-old rose garden. There are plenty of intimate places for your photos and ceremony, which is just one more reason we're one of the best Nashville wedding venues to choose for your upcoming nuptials.
Moreover, the Belle Air Mansion is the perfect place for a true destination wedding in Nashville TN. We offer 10 elegant guest rooms in the mansion itself, in addition to the 5 guest rooms in our Retreat House. In total, the Belle Air Mansion sleeps 38 people, which means there's enough space for you and your wedding party to gather and celebrate in style. Our venue books up quickly, so contact us to learn more about what makes us one of the best Nashville wedding venues today!

2021's Best Nashville Wedding Venues
There is no doubt in our mind that the Belle Air Mansion is one of the best Nashville wedding venues on offer in 2021.  There is plenty to love about this historic place, but it starts with stunning architecture and timeless elegance.  Getting married at Belle Air Mansion offers couples the perfect blend of southern traditional charm and modern luxury. Imagine posing for pictures on our grand spiral staircase or on our stunning covered porch in front of the mansion, or saying "I do" under the warm glow of the Tennessee sun, while surrounded by 200- year-old-trees or rose garden.
We are happy to accommodate weddings both big and small, from intimate one-day events to multi-day affairs. Accommodating these larger Nashville weddings, with plenty of overnight lodging for your out-of-town guests, is perhaps one of the biggest perks of our Nashville wedding venue. It's a rare opportunity to vacation in an incredible city like Nashville, with all your closest friends and family.  A lifetime of memories will be created throughout your destination wedding, and at the heart of that celebration will be the magnificent Belle Air Mansion.
We also have space to accommodate rehearsal dinners and events, and can make plenty of recommendations for ways to celebrate your Bachelor/Bachelorette parties in the incredible city of Nashville as well! From great breweries, whisky bars, and live music venues for Bachelor Parties to bar hopping at Honky Tonks, spas, and more for Bachelorettes, there's never a dull moment in Nashville.
We've been hard at work over the last year building a new wedding pavilion on the grounds, as well as updating and continuing to improve the beautiful landscaping outdoors. We also initially offered just 50 parking spaces for your wedding guests, but have added more than 80 additional spaces for bigger weddings, with even more space available offsite. With these improvements and the existing southern charm of this space, what has emerged is not only one of the most beautiful but also one of the most unique Nashville wedding venues. We're thrilled with the events we've already held here and look forward to many more years of turning wedding dreams into reality.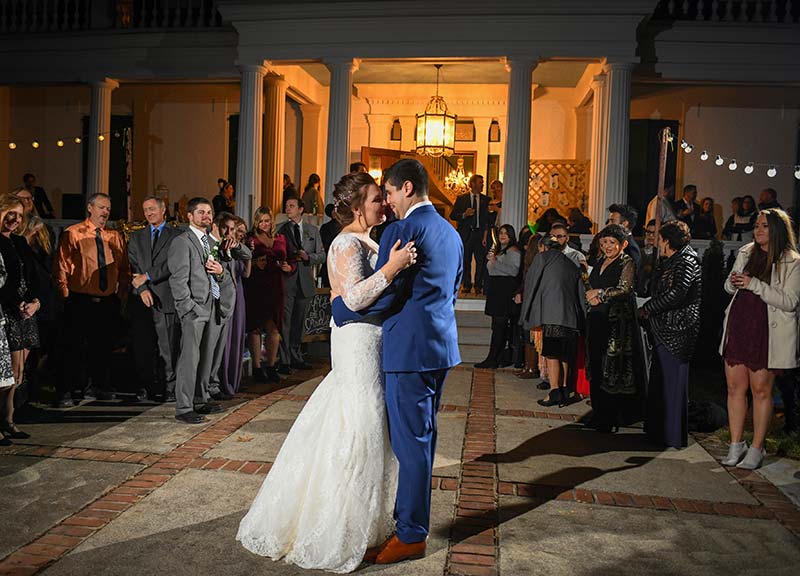 Your Special Place, For years to Come
When choosing between Nashville wedding venues, there's another consideration to make which you may not have thought of yet, and that is having a place to return to for life's special moments!  Imagine returning to the scene of your wedding day and reliving those wonderful memories, on all of those milestone anniversaries, birthdays, and other special occasions to come?
Relationships take time and dedication over the years and having a special place in which to nurture your love is immeasurable. We hope the Belle Air Mansion Bed and Breakfast becomes that "special" place in your life. This, taken together with the other great features of the Belle Air Mansion, is what makes us one of the best – if not THE best – Nashville wedding venues.
Are you ready to start planning?  Contact us today for more information in regards to holding your destination wedding at the stunning Belle Air Mansion.