The Belle Air Mansion & Inn is a luxury Bed and Breakfast in Nashville TN, located just minutes from the heart of "Music City's" top attractions. Our luxury Bed and Breakfast in Nashville boasts 10 individual bedrooms to lodge our guests, while the Retreat House on the property offers guests another 5 bedrooms. Guest will enjoy a variety of common areas and amenities such as our mansion's three large porches and six acres of surrounding land which includes an elegant 200-year-old rose garden.
You've heard the old adage "location, location, location."  Being well situated on your vacation matters, and you'll find that there's nothing that compares to the luxurious ambiance of our Inn with the same great access to the area's top attractions. Our luxury Bed and Breakfast in Nashville is conveniently located 3.7 miles from the Grand Ole' Opry and 9.7 miles from the legendary Johnny Cash Museum. We are located 3.1 miles from the Nashville International Airport, too, which makes our boutique hotel your ideal resting spot upon your arrival to "Music City". We are also only 5.5 miles from everything there is to do in downtown Nashville.
Travel is picking up in Nashville and rooms are starting to book up quickly.  If you have your eyes on staying in this stunning Antebellum-style mansion this year, make sure to book your reservation at our luxurious bed and breakfast in Nashville today.

A Luxury Bed and Breakfast in Nashville TN
There is nothing quite like staying at the Belle Air Mansion, the newest and most extraordinary luxury Bed and Breakfast in Nashville. This historic property recently underwent extensive renovations, and today showcases the majestic grandeur of the Antebellum age in Nashville. Our luxury Bed and Breakfast in Nashville features things like a rocking chair-lined front porch,  fireplaces in your bedroom, glimmering chandeliers throughout, 13-foot high ceilings, and parts of the original heart of pine floors, along with plenty of antiques and period furnishings throughout.  It's truly magnificent.
The friendly and helpful staff at the Belle Air Mansion & Inn want to ensure every guest's stay is as comfortable and convenient as possible. We are proud to provide a wide array of amenities in each of our guest rooms. Guests will enjoy the benefits of:
Onsite Parking
A delicious made-from-scratch breakfast each morning of your stay
Complimentary Tea/Coffee in Common Areas
Complimentary Wi-Fi for the Duration of Your Stay
100% Smoke-Free Property
Air Conditioning in All Rooms
We also have plenty of meeting spaces that are ideal for your next corporate meetings and retreats. Afterwards, enjoy the comfort of staying in our elegant Inn. We want to ensure that your stay is as comfortable as possible. If there is anything that you need at any time during your stay, please feel free to let us know. We are here to accommodate you and ensure that your stay exceeds his expectations.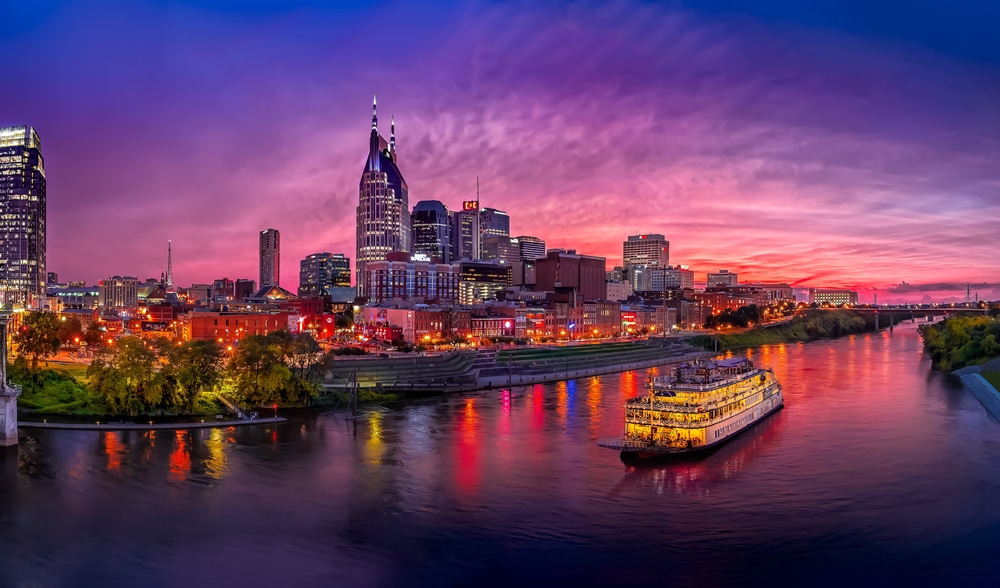 Things to do in Nashville While You're Here:
Nashville is home to the Country Music Hall of Fame as well as countless music halls, museums, landmarks, and art attractions. There are also a variety of restaurants which you can choose to dine at while you are in town.  We invite you to explore Nashville as you learn more about the history of music or enjoy the historic sights that Nashville has to offer. While you are in town, some of the most popular attractions to check out include the following:
These are just a few of the well-known attractions that are proud to call Nashville home. No matter what you want to do on your family vacation, there is always something new, interesting, fun, and exciting to do in Nashville. Book your room at the luxurious Belle Air Mansion & Inn today, and enjoy the attractions and landmarks of Nashville, while still avoiding the chaotic crowds that will come with the summer months.