There are plenty of great reasons to visit our luxurious Bed and Breakfast in Nashville TN, not least of which is the chance to stay in this exquisitely restored Antebellum Plantation.  But while you're in Nashville exploring the many attractions, you'll need a few places to eat – and for that, we'd love to send you to some of the best restaurants in Nashville for 2022.
There are more great restaurants in Nashville than we can possibly mention in a single blog, but we're going to make our best attempt to give you 15 recommendations that we think you'll be more than happy with. Nashville's food scene is quite diverse, ranging from the deliciously spicy Nashville Hot Chicken, which has a huge fan base all over the country, to upscale fine dining and even Michelin-starred chefs.
There's a little bit of something here for everyone – which can also be said of the city itself.  From country music fan favorites like the Grand Ole Opry, Honky Tonk Highway, and the Country Music Hall of Fame to an incredible range of artistic venues and galleries and historic attractions, there's a little something for everyone in Nashville. At the heart of any great getaway to Music City is a stay at our luxury Bed and Breakfast in Nashville TN.
Embrace the charm and character of the Antebellum South in this impeccably restored boutique hotel. From the ornate fireplaces and glimmering chandeliers throughout the building to the original heart pine floors and period furnishings, you'll feel as though you've been swept back in time to a different era.
You can enjoy this stately mansion without having to sacrifice location, too. After all, we're just 5.5 miles from downtown Nashville and the city's top attractions. If you're ready to get a taste of the South, book a room at our Bed and Breakfast in Nashville TN, and get ready to visit one or more of these 15 extraordinary restaurants in Nashville!
15 Incredible Restaurants in Nashville
At first thought, you probably think that most restaurants in Nashville are serving southern comfort classics – think plates piled high with fried chicken, sauteed greens and vegetables, biscuits, and more.  While you certainly can find southern classics like this in Nashville, home of the famous "Meat + 3" – there's far more to restaurants in Nashville, especially in 2022!
Nashville is, of course, the birthplace of Nashville Hot Chicken, which is a deliciously spicy fried chicken sandwich served simply with white bread and pickles. There's plenty of BBQ, too, sometimes at the most unassuming of places.  But as Nashville continues to change and grow, so too do the restaurants in Nashville.  Today, you can find some delicious examples of the classics alongside just about any other type of cuisine you could want, from the simple to the divine.
As you start planning your upcoming getaways to our Bed and Breakfast, here are some of the best restaurants in Nashville to consider for 2022: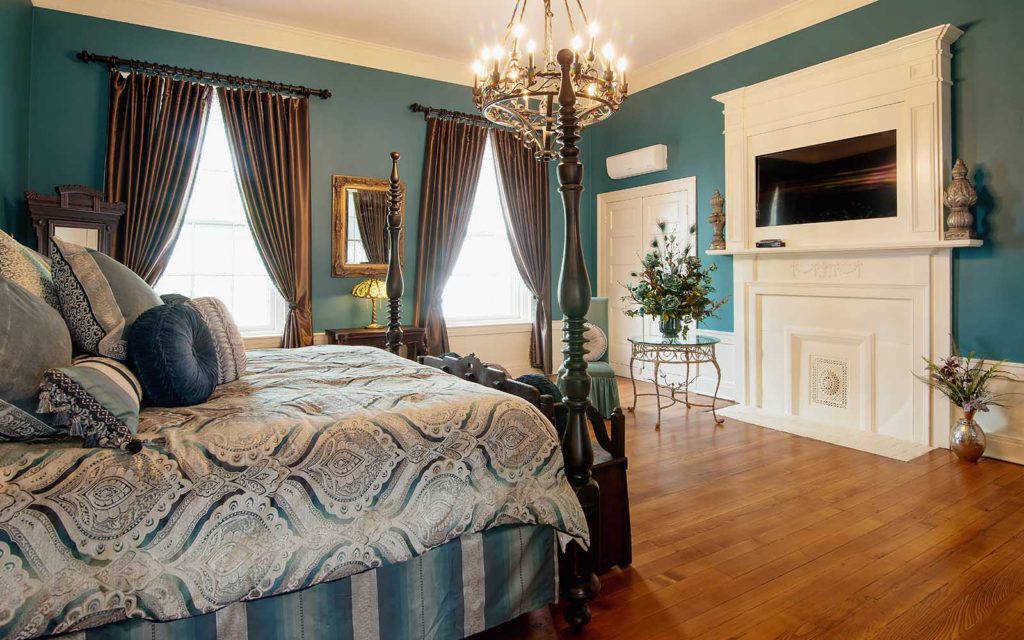 The Best Bed and Breakfast in Nashville TN
There's definitely no shortage of great restaurants in Nashville, and many of them aren't too far away from our luxury Bed and Breakfast, either! There's no need to compromise on location and luxury, and the chance to stay at our stunning Bed and Breakfast in Nashville TN truly is truly an opportunity worth taking.
You'll see and feel the difference the moment you drive up to our stately mansion.  This elegant Antebellum-style home, which has been impeccably restored to its historic glory in recent years, sits upon 6 acres near downtown Nashville, just minutes from the top attractions.
We offer guests a choice of 10 guest rooms in the Inn, or we also have our Retreat House, which is perfect for larger groups traveling together. Each of our expansive guest suites in the mansion is tastefully decorated with period furnishings, opulent touches, and a variety of modern amenities. In the morning, start your day off on the right foot with a delicious breakfast, made fresh for you in our kitchen and served in our dining room.
The exciting music-loving destination of Nashville is waiting for you.  Discover why we're the best place to stay in Nashville.  Book a room at our Bed and Breakfast today!