There are few things better than escaping for a day or two (or more!) for a relaxing and romantic retreat with your special someone, and few places better to do that than at our luxurious Bed and Breakfast in Nashville TN. Nashville is famous for exquisite southern hospitality, an unbeatable food scene, an impressive mix of music venues and industry-related attractions, and so much more.
Beyond exploring the incredible city beyond our doors, a visit to our Bed and Breakfast in Nashville TN gives you the opportunity to embrace the distinct charm and character of the antebellum South. This is your chance to kick this winter's cabin fever to the curb and unwind in pure luxurious bliss while we treat you to the getaway you deserve.  If you're ready to join us for a safe and relaxing getaway, it's time to book your room at our sensational Bed and Breakfast in Nashville TN.  
The Best Bed and Breakfast in Nashville TN
From the moment you first arrive at our Bed and Breakfast in Nashville TN, we think you'll see what sets us apart and makes us such a special place to stay. This beautifully restored plantation home sits on an unheard-of 6 acres near downtown and is the only historic bed and breakfast of its kind in Nashville.  The stunning Belle Air Mansion is not only full of artistry and unique architectural features, but it retains many features of its original glory as well, including ornate fireplaces, glimmering chandeliers, and the original heart pine floors, not to mention a beautiful array of antique furnishings throughout.
There are 10 luxurious guest rooms spaced out throughout the mansion, with an additional 5 guest rooms in our Retreat House.  Each of our expansive guest suites in the mansion is tastefully decorated with a range of period furnishings and opulent touches. Inside, you'll find our guest rooms come with a variety of amenities. A few of our guest rooms have finer touches that are perfect for intimate getaways, like a jetted tub in our Bronze Tranquility room, a clawfoot tub in our Golden Suite, and a large soaking tub in our Turquoise Room.  Some rooms also have fireplaces and/or private entrances. These rooms are undeniably romantic and the perfect place to retreat for a few days of luxurious intimacy.
Our Retreat House is the perfect space for groups traveling together, whether for Corporate Retreats, Destination Weddings, Family Reunions, or other groups.  Inside the Retreat house, you'll find 5 guest rooms, each with king or queen beds, 4k Televisions, air conditioning, and more.
Though the elegance and historic charm of our Bed and Breakfast in Nashville TN is certainty the star of any great vacation here, we can't forget about our breakfasts. Awaken to the aromas of a freshly made breakfast each morning, just one more special treat you often don't indulge in at home. It's the perfect way to start off your day regardless of your plans for the day ahead.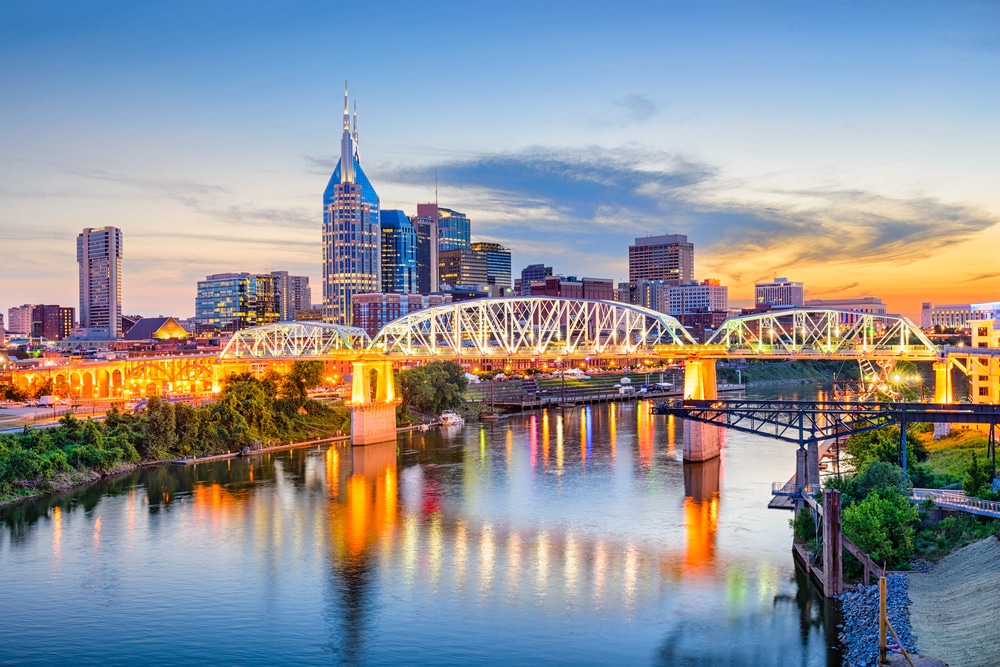 Our Favorite Things to do in Nashville This Spring
While the architecture, accommodations, and ambiance afforded guests at our Bed and Breakfast in Nashville TN is unbeatable, so too is our proximity to downtown Nashville itself!  The Belle Air Mansion is just 5.5 miles from the heart of downtown Nashville, which puts you in minutes of enjoying the very best that this vibrant city has to offer.
Given that spring is just around the corner, here are just a few of our favorite things to do in Nashville at this time of year:
Visit some of Nashville's famed museums, such as the National Museum of African American Music (NMAAM) or the Country Music Hall of Fame and Museum.
We may not be able to visit music venues in the same as before, but we hope to again soon!  In the meantime, you can still support independent music venues, many of whom have invited local musicians to perform live streams so that you can enjoy the music from your own home. Check out what's happening at 3rd & Lindsley, Exit/In, and The Basement.
Enjoy some of that delicious southern comfort food, including Nashville's famed hot chicken, at the vast array of restaurants in downtown Nashville.
Visit the Grand Ole Opry, the country's longest radio show, which still puts on live shows three nights a week.
Visit another famous music icon, the Historic RCA Studio B.  They are currently open for tours, though tickets are limited.
Go on a tasting tour of Nashville, and visit one of the many breweries, wineries, cideries, and distilleries in town!
Go shopping in downtown Nashville, where you can find a huge variety of untold Nashville treasures, including things like records by local musicians, rare musical instruments, vintage items, jewelry, and more.
Nashville really is an incredible city, and this is just the tip of the iceberg when it comes to all the things to do in Nashville.  Come explore with us, and give yourself plenty of time to relax in luxury at our stunning Bed and Breakfast in Nashville TN.  Book your room today!